Nadeau, Christine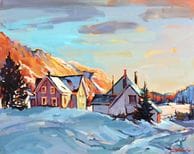 Beautiful Day
24 X 30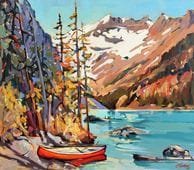 Inspiring Moment
28 X 32
About Christine Nadeau
Christine Nadeau was born in Québec City. She has an educational background in visual arts and in psychology. Her favourite subjects are nature, maritime landscapes and life in relation with nature. A good command of composition and drawing techniques, acquired during her training in visual arts, gives her work an organized structure where she can express herself freely and harmoniously. Her approach is based alternatively on passion and structure. Her art is characterized by a profusion of broad brushstrokes that exist side by side and get organized in a final structure. Her work, like a mosaic, reaches its conclusion at the very final stage and is best be appreciated from a distance. Her acrylic work is characterized by a warm color palette and strong contrasts. Her training in visual art and in psychology brings rigour and sensitivity to her favourite subjects: nature, maritime landscapes and life in relation with nature.
Currently she is a member of the Figurative Art Institute, and she is a signature member of the Canadian society of Artists. Recipient of several awards and honors she was finalist recently in the international artist magazine.
Her works can be found in many art galleries in Québec and across Canada. she exhibited in Brittany and in the north of Provence. In 2010, she exhibited at the Carrousel du Louvre in Paris, as part of the Canadian Delegation.
As her legacy, the artist wishes to leave a subjective and emotional expression of her perception and she strives to be a sensitive witness, able to convey the awesome beauty of her country.