O'Hanlon, Harry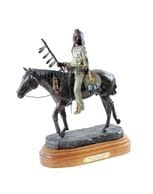 The War Shirt
15 X 14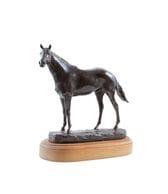 Untitled Horse
13 X 13
About Harry O'Hanlon
Harry O'Hanlon was a native Albertan. He was born in Edmonton in 1916, and spent most of his life in Alberta. Although he has traveled widely, he loved the Foothills country, and thought it was the finest place in the world to live.
Harry was fascinated with the Native American way of life since he was a youngster, when he spent many happy hours building Native villages out of paper, and carving people and animals out of wood. He lived for several years on a Native reservation in Montana, but his immense knowledge of early Native American customs comes from research he did mainly at the Glenbow Foundation in Calgary. He found it disappointing that the young Native people today know very little about the customs and living conditions of their ancestors.
Harry had no formal instruction in either painting or sculpting, and no one really encouraged him in art when he was a child: to explain his "natural" artistic talents. Before starting to work in bronze, Harry expressed his interest in the Blackfoot people and their culture through his oil paintings. One of his ambitions was to paint the last of the old "longhairs" of the Blackfoot Nation, and he completed over 50 portraits. Several are owned by the Glenbow Foundation. Others are in private collections in Canada.
Bronze work fascinated Harry O'Hanlon for years before he actually started sculpting. Then, about five years ago, he examined very carefully a bronze that particularly interested him, and said to himself that he too could do that. To create a piece of sculptures, he soon found there was much research work to be done to depict a subject properly and to make sure that every detail of dress, equipment, hairstyle etc. was authentic.
His work are in the collections of His Royal Highness Prince Charles, The Nickle Museum University of Calgary, the Nickle Family Foundation, Gulf Canada Ltd., Home Oil Company, Chevron Canada Ltd., Bodium Resources of Calgary, the Fijian Museum in Suva, Fiji, and in many private collections across Canada. He passed away in 1996.