Wood, Robert E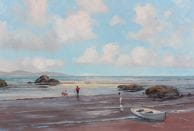 Clam Diggers
24 X 36
Chinese Junks
36 X 24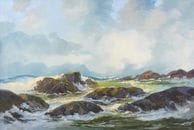 Surging Sea
24 X 36
About Robert E. Wood
Robert E. Wood was born in the hamlet of Mount Dennis, Ontario (now a suburb of Toronto) in 1919. He inherited his love of the season from his mother and his love of nature from the Wood family. His father and grandfather were ministers, and Robert was a deeply religious man. "People are either tuned in to spiritual things or they're not. A person in any of the arts has to have a depth and be in tune with God and Nature, because to paint a mountain is nothing... just a pile of rock. But to paint it as a spiritual cathedral, leaving something for the viewer to imagine, takes an artist."
Robert was a graduate of the Ontario College of Art and studied under Arthur Lismer and Fred Varley. He was also greatly encouraged by the great art teacher J.W. Beatty.
Before settling down to paint seriously, Robert worked at many diverse occupations, including time as a scuba diver (he was one of the first scuba diving instructors on the west coast), a miner, a minister, an undertaker, the first all-night radio disc jockey on the west coast of North America, radio station manager, and as a private detective, among others.
Wood explored the avenues of various forms of art such as abstract, but settled on true representational art as the medium in which he desired to express himself. He did, however, paint abstracts under the pseudonym of Robert DuBois.
Robert Wood started teaching in 1955 when a small group approached him and asked if he would help them in their efforts. He taught countless art courses over the years, and many of his students went into the professional field.
"There is no occult mystery to painting. It is not something that should be kept hidden. I'm not afraid to let my buyers see how it is done. And frankly, I like doing it."
His love of the sea drew him to become the master-owner of the sailing cutter "Albatross", which sank off Trial Island in 1963. He was then skipper of the schooner "Buccaneer", on which he ranged the fjords of British Columbia, capturing their beauty on canvas. With the "Salucan" (an ex-government quarantine boat), he had a government contract to patrol the Canadian waters near Bella Bella, Bella Coola and Namu, to ensure that foreign fishing boats didn't enter Canadian waters. The "Salucan" also became his 50-foot floating studio. Tied in with his love of the sea and its ships, a great hobby of his was building model boats.
His landscapes, seascapes and still life canvasses made him a well-recognized Canadian artist. Apart from growing up in Ontario, he lived in many places throughout his life including Winnipeg, Calgary, Victoria, North Vancouver, Greenwood, Courtenay, New Westminster, Texada Island, Duncan and Comox, among others.
"Canada has only a back-house culture. What will bring Canadiana will be love of country. We can't expect a flourishing culture until people know what Canada has to offer."
Robert had his first son, Karl E. Wood, with his wife Linea. He spent many years with Vera Macbeth and his step-daughter Linda. He then had his second son, Sidney Wood, with his wife Marilyn.
Robert E. Wood's paintings were a reflection of the man. He painted what he liked, the way he liked. When he made a statement on canvas, it was clear, crisp, richly coloured, deliberate and unapologetic. His favorites were those of the sea, where he felt most at peace with the world.
"People are so caught up in the mad, daily race that they miss the hidden beauties. It is the duty of the artist to capture the beauty in nature."
He passed away in 1980.